The Germans of Philippi

Deutsch
---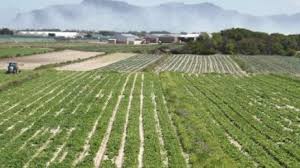 The Cape Flats are flat areas with sandy soils lying South East of Central Cape Town. Today these the Flats are nearly completely used for Industrial and Township Development, but about 120 years ago farmers from the Lüneburger Heide in Germany settled here to supply the growing city of Cape Town with vegetables.
The British Colonial government at the Cape had had good experience with settling German farmers in the strife-torn area of Caffraria in the Eastern Cape. It therefore decided to attract more Germans to the Cape to settle the infertile Cape Flats. They found volunteers who were willing to emigrate to the Cape in the Lüneburger Heide - itself a sandy, rather infertile area in Northern Germany.
The farmers arrived in 2 groups: one in 1877 and the other in 1883. The beginnings were characterized by extreme hardship. As happened in nearly all such cases, the help promised by the government did not materialise. And yet the farmers managed to turn the sandy soils of the Cape Flats into the vegetable garden of Cape Town. Today approximately 80 % of all vegetables sold in Cape Town are grown in Philippi. But it seems just a matter of time before the remaining farm lands are swallowed up by the ever expanding City.
As with the Natal Germans who came from the same area in Germany, the Germans of Philippi have always been devout Lutherans and even today the congregation of Philippi belongs to the Cape Evangelical Lutheran Church.
(Information taken from: "Die Groenteboere van Philippi", by Lizette Rabe, Lantern, Special Edition, 1992)
---
Home | Germans in SA | Genealogy | Churches | Books | Webmaster