Wes-Kaap Duitse Setlaars 1858-1883
German Settlers to the Western Cape 1858-1883
Deutsche Siedler am Kap 1858-1883
---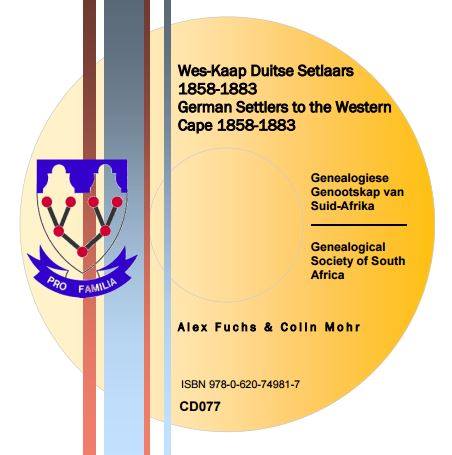 The Western Cape Germans have published a CD with genealogies and historical information on nearly 400 families that settled in the Western Cape between 1858 and 1883. The CD was published in conjunction with the Genealogical Society of South Africa. The CD can be ordered via a link just below the picture of the CD on the main page.

Die Wes-Kaap Duitsers het 'n CD saamgestel met die stambome en geskiedkundige inligting van omtrent 400 families wat hulle in die Wes-Kaap tussen 1858 en 1883 gevestig het. Die CD is in verband met die Genealogiese Genootskap van Suid Afrika uitgegee en kan deur 'n skakel op die Genootskap se webblad bestel word.

Die West-Kap Deutschen haben eine CD herausgegeben mit den Stammbäumen und weiteren Informationen von fast 400 Familien, die sich zwischen 1858 und 1883 in der West-Kap-Region niedergelassen haben. Die CD ist zusammen mit der Genealogical Society of South Africa herausgegeben worden und kann über die Hauptseite der GGSA bestellt werden.
---
Anfang & Suchen | Deutsche in Südafrika | Genealogie | Schulen & Vereine | Buchhinweise | Email
Home & Search | Germans in SA | Genealogy | Schools & Institutions | Books | Email